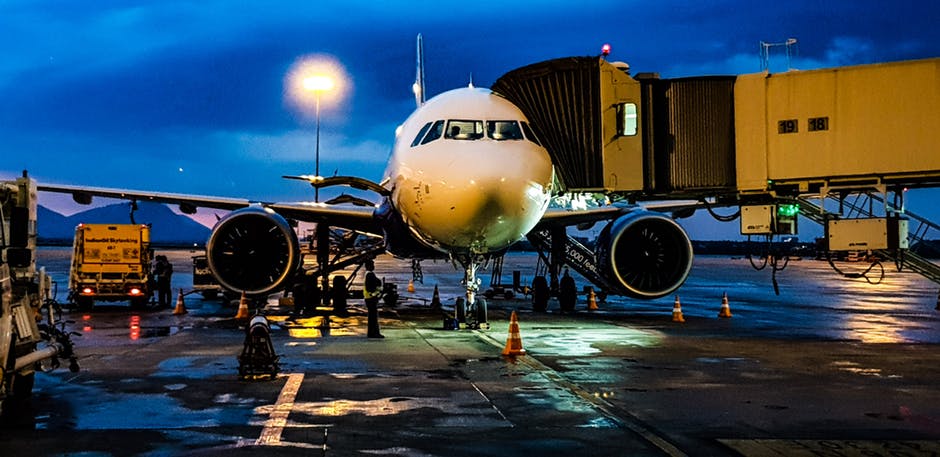 Sometimes when you are at an airport trying to get into AlwaysOn wifi and you look up, you might see them. Actually you see him first because he's always a stride ahead, the leader of the pack. He's dressed in crisp uniform and shoes shined so studiously that if that dead cow resurrected and saw what has been done to its hide it would have nary a qualm because it would have died for a reason. The reflection on those shoes alone can be seen all the way from Saturn on a good, clear day. A man is his shoes, he seems to know, but he also seems to know that a man is his walk. And his walk is measured and confident because he's el capitan and because he's not in much of a hurry even though his kind always seem to be in a haste. But one thing is for sure – the plane is not leaving without him. Because he will be flying the plane. That plane is his. He's the man in authority; if he doesn't like you and your loutish behaviour he will not let you into his plane and if you protest and ask him if he knows who you are, he will tell you like Abduwali Muse told Captain Phillip, "Hey! Look at me, look at me, I'm the captain here."
When captains walk, they walk like gods. The gods of the sky. As they strut through airports passengers give way like a modern Red Sea. They never smile, you don't smile if you can keep a big bird weighing 247,000kgs airborne for over eight hours. Smiling is for people with Instagram accounts. They don't even look like they have normal bodily functions like sneezing. Or burping. Captains don't burp. And so they grimly peer at the world from underneath their caps, looking erudite, looking like they have read all the books on aerodynamics. And maybe some on birds. They understand the sky and the science it comes with. And what's with the aviator sunglasses, you may ask? They have them on because mere mortals shouldn't look straight in their eyes. How dare you when you don't know the formula for lift? They drag their suitcases or those fancy leather cases that look like they contain the world's very secrets. Sometimes I look at those cases and think, perhaps the formula of Coca Cola is kept in there. I also suspect that maybe they could only be containing two bruised apples and a lunch-bar packed by the wife. Or an old dog-eared novel to read when the seatbelt sign goes off. But we will never know, will we?
Flanking them is always a knot of flight attendants, walking in stride in a taut parade of synchrony. They are often tall. They are often made up. They are often wearing stockings. They are often beautiful,in the conventional way, but also in the way one might have admired Colonel Gaddafi's female bodyguards. The word "enthrall" pops to mind. They are often grim, to match the look of the Captains and first officers. They have their noses slightly in the air, because they have to smell the sky before they take to the sky, almost like they can pick the climatic conditions 40,000ft away from earth. They always have on high-heels that click and clack on the airport floor as they all walk in step; the cacophony of the postmodern munus legitimum – if you dig the ancient Roman Empire gladiator duels.
The uniform is such a powerful thing, isn't it? Everybody looks good in it. It shows that you have been put through the rigmarole and emerged triumphant. A uniform shows that you know, it is an emblem of skill. And they own it, together, as they sweep through the vast airports, hardly uttering a word to each other. Emissaries From Nimbus.
Take a plane like The Dreamliner. It carries like what, over 240 passengers? That's 240 people who grew up in different homes in different cities, countries, went to different schools, perhaps even went to jail or are about to go to jail, people who are about to get married or are in the process of a nasty divorce, people who are going to start a new professional life abroad or are coming home to bury their parent or sibling or people who are sick and are going to find out if they have cancer abroad. Or people with babies who are irritable because they can't figure out why their ears are blocked and they don't know, yet, that if you swallow it will open up.
Now imagine you are the one who has to deal with these people in this enclosed space for something like eight hours.  Okay, you don't have to imagine because I asked six flight attendants (one male) from different international carriers with a collective flying experience of 47-years, about serving passengers. Here is a classification of us, passengers, according to them, crew.
First-Time Fliers.
One flight attendant tells me a story of how during a flight the captain called her to urgently check what the hell was going on in 3L, that's the door further down the aisle to the end of the plane. She rushed there to find someone trying to open the door. It was an Embraer, a sophisticated plane, she says and it picked that interference and also sent an emergency signal back to Flight Operation Center on the ground as an emergency. She asked the man what he was doing? He said he was trying to use the toilet. She said, "Sir, the toilet is this way, here, let me show you." When she told me this story I thought, aii, why did she assume the man wanted to use the normal toilets? Maybe he just wanted to pee outside as his culture dictates?
That man was a first-time flier. The toilet normally gives them away.  
Crew say they normally know first time fliers the moment they step onto the plane because they will submit their passport first and not their boarding pass. I also learnt that they check the boarding passes not to direct you to your seat necessary but to know if you are on the right flight on the right day.  
The first time I got on a plane was to Kampala many moons ago. I think it was the great year of the locust. I thought it seemed dangerous that they were allowing all those people to walk in the plane mid-flight. Surely, won't the plane crash from that human activity? I was terrified. I'd listen to the sound of the engine and if it changed I would start mumbling, "Jesus I accept you as my personal saviour…" because when you accept Jesus as your personal saviour before you die, you go straight to heaven. You don't even queue, I'm told. Also, I was pressed and I didn't want to go to the washroom because, first, I didn't know where the hell it was and when I finally saw the sign I couldn't get enough guts to walk there because the very act of walking there would have made the plane crash.
Apparently flight attendants can tell first time fliers even if they act very composed because they are stiffer. They blink more. They don't leave their seats. Some can't eat because they don't know where the tray tables comes from and they don't want to ask because they will feel stupid. Some are the opposite, they want to pretend they know, so they force things, breaking overhead lockers, not flushing the loo. First time fliers are easy passengers as long as they don't try to pee on the clouds.
Those who don't bother listening to the safety announcement.
Nobody really ever thinks that the plane will crash. Not a plane you are in, at least. Those things only happen to other people who have been truants in their lives and refused to eat their vegetables. People who don't hydrate. But I also always think that should a big-ass plane like an Airbus fall from 42,000 feet, it's highly unlikely that I will survive. Or the person next to me. Unless he's made of rubber. Also if you have flown for a bit you always consider the flight safety announcement before take off as background noise. Unless the flight attendant is very striking and this is the only time you can actually stare at her without looking creepy. But you should really stop and listen to the safety announcement so that you know what happens next when the oxygen mask drops down from above your seat. (Put yours on first before helping the children. The children are God's children, He will help them). Nobody gets on a flight ever thinking that they may end up using a raft. But there are rafts in the plane but you will never know if you don't listen to the announcements. The attendants know the frequent fliers; they are always doing other very important things during the announcement.
The loo is not a living room. Don't chill there.
A flight attendant told me how there was a time on a flight from Nairobi to Dubai, she noticed that a passenger had spent too much time in one of the washrooms and so she went and knocked on the door. "Mr. Ade?…Sir? Are you okay in there?" And he said petulantly like a teenager, "Leave me alone!" So she left, served someone a glass of wine and gave someone an extra blanket and then went back. "Sir? Is everything all right in there?!" The man said, "Go away!" She pressed her ear against the door and heard sobs. Mr Ade was crying in the loo. But why was Mr. Ade crying in the loo? Who had hurt Mr. Ade? It could have been anything from constipation to heartbreak. The flight was wifi-enabled so perhaps he had gotten a bad Whatsapp message. Mr Ade wouldn't leave the loo. Nobody could use the loo. The crew consulted with each other; what if Mr Ade was trying to commit suicide by eating all the tissue? Should they inform el capitan?
"Mr. Ade? Sir? Do you mind opening the door?"
Mr. Ade was quiet.
"Mr. Ade?" Knock knock. "Mr. Ade. We are getting worried now."
The door slowly opened and Mr Ade came out. His eyes were the colour of cranberry juice.
"Sorry," he mumbled brushing past the attendant. "I just needed a moment."
Nobody ever found out what made Mr Ade so sad. It remains a mystery. Mr Ade, if you are reading this, God loves you.
Also, an unrelated tip: Avoid eating curry before a long flight.
The drunks
There are two types of drunks in the plane; the happy drunk and the annoying drunk. The happy drunk is charming and funny and chatty. He will walk to the area where flight attendants dispatch meals from and just lean there shooting the breeze with them, making them laugh with silly stories. He will offer to "wash utensils" or offer to go serve the most problematic passenger in the flight – serve him with pep talk and a side of reality check. He is a good soul. And when they tell him, "Mr. Bett, you have had enough to drink, why don't you drink some water?" He won't cause a fuss. Crew love happy drunks. "They make the flights fun and shorter," one said.
Then there is the nuisance drunk. Those who want to grope your breast and when you slap his hand away "Sir what are you doing!?" they say, "Sorry, I was supporting myself, my center of gravity is a bit compromised." And you will say, "Sir, my breast is not a railing!" And he will say, "No? Show me, then." That's not the type of drunk the crew loves. They also don't like the drunk who starts singing. Mostly because not so many drunk people can sing very well. Plus this is not a concert. Loud drunks that bother other passengers are not popular.
I once sat next to a happy drunk who put away so much and snored very loudly, which I didn't mind as much as him falling asleep on my shoulder because we looked like a couple. The flight attendant kept smiling at me as she passed as if to say, "It's fine, it's fine, love is love."
"I know the CEO."
So crew will not tell you this but nobody in that plane really gives a rat's ass if you know the CEO of the airline. Or the chairman of the airline. Or the family that owns the airline. So if you tell the crew who are just doing their job that, "I have to have a word with the CEO about service here. I play golf with him," you sound like someone took away your lollipop. It's not like when you report the crew for not bringing your water on record time they will be all lined against the wall in the CEOs office and whacked across the ass with a ruler at the end of the flight. Also, there are people in that plane who know the president but don't say a thing. So, sit down and eat your mixed nuts. All the problems during flights can always be solved amicably without invoking the name of the CEO.
Business Class.
There are three types of Business Class travellers, I was told. The first type is the one who bought  his own ticket. It's a normal thing for him, to buy a Business Class ticket. It's like you buying 1GB data bundles. He sits quietly. Hardly ever fusses. He opens his laptop and he works. Or watches a movie. Or naps. He will also go to heaven.
The second type is the one who got upgraded. Because he knows the next time he might get upgraded is perhaps during the next general elections he wants to soak in this moment. Everything. He will drink champagne and juice and water and eat all the three course meals and have a beer and wine and have nuts and have the bread and burp and say what's the other option of dessert then have it also and then have the fruit salad and when the crew is thinking he's surely going to either pass out or have a seizure he asks if they have a "small piece" of chicken pie.
The third type of Business Class traveller is the one whose ticket the company paid for because his position allows him to fly Business. He's mostly a prick, this one. The crew will smell him when he walks in because he smells like trouble and entitlement. He will say things like, "No sparkling water? What kind of an airline is this that doesn't have sparkling water? Are you guys serious about business?"  (Not any more serious than you are about your hairstyle, sir.)
He then settles for still water and when you bring the water he will ask, "Is this Evian?" Crew will say, it's not, sir, he will say, "I don't take anything but Evian water." Then he will sigh as if the normal water might give him cancer. "This is why I fly [insert competitor]! I'm done with this airline." (Yeah? Does that mean you will do us a favour and jump out here at 35,000ft?)
This type of Business traveller suffers delusions of grandeur. He thinks that he's better than you who is serving him champagne. He will be fussy and insolent. He will wonder why the hell there is no New York Times, which is the only newspaper he reads because God forbid should he read the FT he will develop mumps. He will ask for almonds but when he's told that there are no almonds but mixed nuts which also contain almonds he will throw his toys from his pram. Never mind that three years ago he couldn't tell almonds from groundnuts. He snaps at crew. Serving him is like serving a pet hyena. He is no joy.
But also there are lots of nice Business travellers whose tickets companies paid for. Those will also go to heaven.  
The wealthy.
You will mostly find them in the First Class or Business Class. If it's Dom Perignon it will be one glass. They will rarely change their drink. They are not extravagant. They will eat light. They won't demand for almonds. Will never raise their voices. They sit quietly and read a book or watch a movie. They will call crew by name. They will go to heaven.  
The guy who always presses the call button.
Do you know what some crew call the flight to Mumbai? The Christmas Tree. That's because they are always pressing the call button and in a flight the lights up there are constantly lit.  But it's not a joyous Christmas. They want water, then they don't want water, they want juice, then the juice is too warm, they want ice-cubes, then they wonder if they can get nuts and then maybe they don't want nuts anymore, then is this orange juice or apple juice, take it away, I said orange juice, also can they have a glass of wine, then what wine is this? Oh, this wine makes me sleepy, can I have wodka instead? Why is the wodka taking so long? On and on it goes, and the crew run up and down the aisle like hamsters.
You know what frustrates the crew? When you press the call button and they rush to you only for you to ask, "How much longer are we from Istanbul?" Or you say, "I kicked off my shoes and now I can't find them, can you look under the seats for me?" The call button is for when you need help, it's not a toy.
I asked them to categorise the travellers according to race.
It's not 100% but it's a generalisation. Please, no knickers in a twist.
Indians and Pakistani:
Have you watched Snakes in Plane? These group of guys call attendants auntie and uncle. They demand for everything because they "paid for it." And they want it now. I'm told that there is a big difference between the flights to Delhi and those going to Mumbai. The Mumbai flight is a nightmare. There is a joke, that when chaps to Mumbai board they ask for a complaint form at the door and when you ask if  there is a problem they say, "No, just in case." Good news? They hardly write complaint letters. If an Indian writes a complaint letter you deserve it. The Delhi flight , on the other hand, is sunshine. Delhi folk are all for happiness. They have no demands, their chakras are at peace.
The Dutch:
Chill folk. Polite. Just feed them and they won't bother you.
French:
Chill, also. All they want is that you don't take shortcuts. Serve them their food and wine and have everything in place. Do your job and all will be fine.
British:
They are two-faced. They have this thing where they "smile" at you and immediately they pass you the smile is gone. They also like in-flight entertainment. They will hardly complain there and then but three months later you might get a letter of complaint.
Americans:
Very friendly. They will talk your ears off. They can overwhelm you if you indulge them. They ask a lot of questions. They want to know about your life. They just want to hang out and shoot the breeze.
Japanese:
You will never tell when they are happy or not. Is the problem solved or is it a thorn? They are polite and neat. They are orderly. The put everything back the way it was at end of the flight. Blankets folded, bathrooms clean. They never litter the plane. They clean up after themselves.
Chinese:
China route is a headache. If you find one smoking in the loo he will defend himself in Mandarin because he doesn't know English, but when he's complaining about something he will suddenly know English. There is a also a way they will treat most black flight attendants.
Africans:
A flight full of Africans offers colour and drama. Congolese are "very nice people." Their flights are problem-free. Cameroon are like the French. Easy to deal with.
South Africans (Because SA isn't in Africa) The typical white South African from Jozi has a scowl. He's not friendly. He's like a lone buffalo. The black South African is loud and noisy but he only does that if there is a white person next to him. They say things like, "But why do you serve the white guy before me, ne?" This of course is not meant for you, because you are a fellow African, it's meant for the white person.
Kenyans are quick to tweet and facebook. Abrasive. Always looking for wrong. The crew call Kenyan fliers "hamnanga," because they start all questions with, hamnanga: Hamnanga, Fanta? Hamnanga hot towels? They will tell you how much they paid when they are angry.
Tanzanians:
They will correct the language in the PA system. They will say, "Dadangu, hatusemi hivyo kwa Swahili sanifu…"
Arabs:
Your can hazard a guess.
Nigerians. The food portions are never enough. What will make them really happy is a buffet.
Those who come with marriage proposals.
Apparently, and this might come as a surprise to many, but flight attendants are never really looking for spouses during flights. Apparently it's not a normal flight unless someone asks for a hand in marriage or a date. But I asked one if she has ever liked a passenger enough to go on a date with him. She laughed and said, kinda. I said, kinda as in you went on a date but didn't sit down or kinda you liked him but didn't go on a date?
She met the passenger on a Sidney flight and they had dinner after.  
"What made you have dinner with him later?"I asked. "Was he a happy drunk?"
"No. He was cute and he was respectful and during the flight when we were just sitting in the gurney area, he would frequently walk up and make us laugh."
"If he wasn't cute but he was respectful and he had funny stories would you still have had dinner with him?"
"I think I would."
"In that case, you will go to heaven."
"Oh thank you Biko. I appreciate your validation."
Ha-ha.
Also, Nigerians want to "marry you for their brother." What's that about? "Can I marry you for my broda?"
The whiners.
The food is not good. And why are your seats this small? Why is the captain mumbling, if he doesn't want to speak to us tell him to shush. This is not late night radio. Your headphones are cheap, can't you guys afford to give your clients good headphones when we pay so much to go to France? Why have we not left the runway yet? Why is it so hot in here? Why are these ice cubes shaped this way? Can't you guys find ice cubes that are square? I can't have my whisky with an ice cube shaped this way on principle. Why don't you keep the bottle of water next to me? It doesn't make sense that I have to keep calling for water and you pour it into your small cups. Your blankets are too short. If they are not called blankets what the hell are they? I'm an adult, you can't force me to sleep. (Sir, nobody is forcing you to sleep). Then why do you switch off the lights in the plane? (You can use the overhead lights, sir.) I know where the overheads lights are, I'm not stupid, I have a PhD in Financial Engineering. This is terrible. I can't remember the last time I was forced to sleep. (Sir, please stop crying, you are scaring your daughter.)
Crew also hate it when you compare them with other airlines. When  you say "KQ/Emirates/Qatar would never serve us this plastic for food." It's like being in someone's house for dinner and you keep talking about some food you ate in another house.
So what makes a model flier?
It's actually so simple. It's also what makes a model human being incidentally: Don't be an ass. Just be a nice person. Say "please" and "thank you," they go a long way, much further than your destination. Be kind and respectful. Treat flight attendants like you would want your own sister or brother to be treated. The crew really appreciate you more if you are nice and respectful rather than if you want them to know that you play golf with the CEO. And it costs you virtually nothing.
Plus, you might go to heaven.
Ps: The 16th Bikozulu Writing Masterclass is now open. Dates: 5th- 7th Sept. To register please email [email protected] To buy my book, Drunk, please see the banner above for details.