&nbsp  28 &nbsp &nbsp
Does an eight year old fully comprehend the luxurious notoriety of a Mercedes Benz? Does she see it and think, oh here is something shiny and curvy and sleek with an interior that is a compelling story of craft, tradition and grandeur? Maybe not, but she will not deny its commanding presence. 
Joan knew, without knowing, that the car that awaited her everyday outside the school gate was a beautiful car. She was six. She remembers the emblem at the front, the three-point star that represents -land, sea and air – the three elements the company (arrogantly) believed they would one day dominate. She remembers how its polished coat glistened in the bright afternoon sun, smooth as a whale's belly. She remembers her driver, a ramrod-straight military man with deep thoughtful lines on his forehead and wide shoulders, who would open the back door for her to hop in. Mostly, she remembers the flag that flapped in the wind on the bonnet of the car. Even though she wasn't quite aware of social status, nor the military's pecking order, she was aware of her privilege, aware that her father – a fighter jet pilot – was an important man in the Kenyan Airforce.  
Everyday she'd sit at the back, legs stretched out before her, reading a book, as the German monstrosity hummed (as Mercs tend to) home to the Moi Airbase in Eastleigh where they resided. Life was peachy until it wasn't. One day she returned home from school to find their household property dumped outside the house; a pile of what was her life; the sofas she sat on, television she watched, towels she wiped her back with, carpets and fridge and the cooker, clothes in boxes and suitcases and framed photos, spoons and the wall unit all out in the world like a secret shivering in daylight. 
"My dad had lost his job," she says, "which meant that overnight we moved from our nice house in the military base to flats in Huruma." A bit like falling off the sky in a plastic basin. "Imagine being picked and dropped from school in a Mercedes with a flag today to suddenly shoving other people in a number 36 Dandora matatu the next day."
No more flags and salutes and men in military uniforms with their lives engraved in the deep valleys of their foreheads. "I was just a child but I remember my mother living in fear," Joan recalls. She also remembers something else, something new, visiting their home; anger. "I remember my dad coming home drunk and just being angry. He got quite unpleasant."
Then she fell very sick. "It was all so traumatic my body started shutting down. I had kidney failure. My blood pressure was so high I was at Gertrude's Children's hospital for three months."
They eventually moved from Huruma flats to Buru-Buru estate where her mom still lives to this day, a maisonette with a sloping roof and a small wooden gate. "My dad could never keep a job after his military job. It's funny how siblings can grow up in the same house but remember different events. There are things I remember that they don't remember happening. For instance, I have vivid memories of my grandfather coming and taking my mom away after an incident, leaving us with the house-help. I was scared she wouldn't come back. I became responsible for my sister and brother from a very young age. I carried emotional burdens a child should never have to carry."
Her mom hardly had two coins to rub together. She remembers her mom always working and coming back home beaten and damaged by the day, her tank almost empty, and trying to muster the little that was left in her- stoicism, compassion, discipline, love, direction, enthusiasm- to pour into her children while also walking the high, tight rope of her marriage. 
Somehow things turned out okay, as they tend to when there is prayer, determination and steadfastness. She finished school, pursued a career in the tourism industry and got into a long-term relationship with a man like her father. They had moved in together and had a daughter. One day he punched her in the nose. "I remember bleeding and my  daughter who was only two years old rubbing my arm telling me, 'sorry, mommy.' I just thought, this isn't the life I want for my child. I can't live the life my mother lived."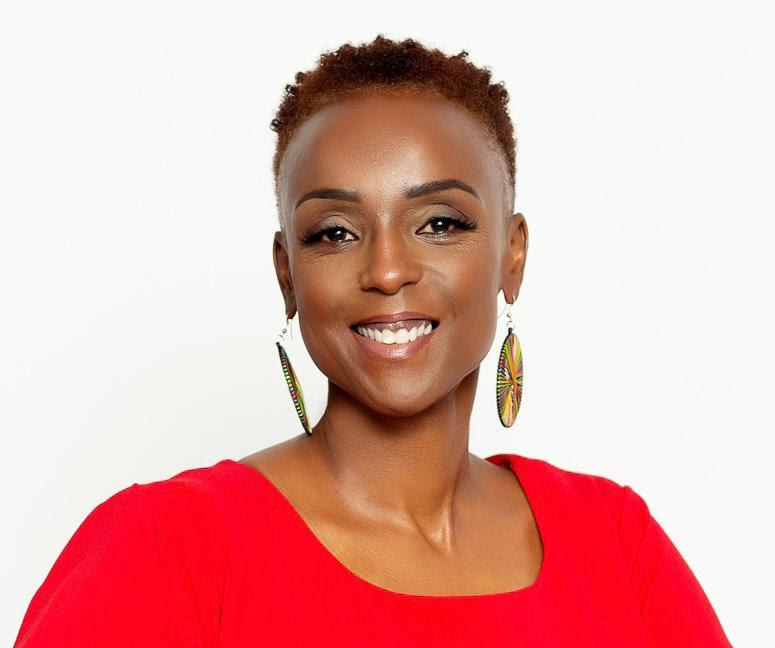 By the way, this conversation with her happened over tea. I had asked her what she does and she said, "I teach people to say no" and I said, like a Kenyan, "what, as in?" "Yeah," she said, "most people struggle saying no, but to learn to say no and to accept other people's no you have to go back to your childhood between the ages of 0 to seven, that's when your socialisation informs most of what you turn up to be." So we went back to her childhood and then to her adulthood where she's now bleeding in the nose and her child is consoling her while she tries to stop the bleeding. 
"It's a cycle," she says of her choice of partners, "we tend to choose what's most familiar to us. Many people say that there is a reality in girls choosing men who are like their father and boys choosing women who are like their mother. Which is not necessarily a bad thing because like our parents, every human being has good and bad parts but often we're so blinded by their goodness, we fail to notice or pay attention to their unpleasant traits."
Soon after the nose incident she made a move. "Do you know how easy it is to move out of a house over a weekend and somebody else moves in?" She poses. "I literally moved out of our house when he was at the coast for work on the weekend. When he came back he found new people living in our house."
She moved back home to BuruBuru and stayed there for years before winning a Green Card and moving to the States in 1997 leaving her daughter behind with her mom while she settled in; her daughter joined her later.
In the US she enrolled to study Human Resource Management because she was interested in human psychology. At that time, like most people, she was watching a lot of Oprah, "who talked honestly about her childhood," and she would invite Dr. Phil who would "provide healing modalities that I thought didn't connect things for me from an African perspective." Unbeknownst to her, her childhood was thumping on a door to be let out, to be resolved. The moment finally arrived many years later when her daughter was graduating from high school in 2014. An otherwise stellar kid with no prior adolescence issues, just became very troubled and problematic. "Something just switched suddenly." She just got off the rails and she couldn't understand what was going on with her. "I felt like I was going to lose her if I didn't do something," so they started therapy. 
"My therapist started asking me questions about my childhood and I was like 'we're not here about my childhood, we're here about my child and what's going on with her and how we need to fix her but he said, 'the way you're raising her and the things you do, the things you say, come from how you were raised, what you were told, and what belief system you built based on the things you were told by the adults in your life.' And what I found out is there are things that I would say to her that made her feel unloved, unheard, ununderstood, all the things."
"Things like what?"
"Like for instance, when she would say 'mom, life is hard, you don't understand' I would be like what do you mean life is hard? You don't have to work! Your responsibility is just to go to school! Kumbe, what I didn't know was that she was being bullied by kids in school. The church we went to was a Kenyan church and she was being bullied there as well by Kenyan kids. She couldn't get help at home because I was so strict and wasn't willing to hear what hard things she's going through. Home was not safe for her emotionally." 
She was forced to start processing her own childhood and how that was shaping how she was raising her daughter. "I started asking myself how many of us as adults are doing things we don't like because threats of being beaten became the thing that made us do what we had to do to fit into the home, to fit into the school, to fit into church. All the things that were done to us that stripped bits and pieces of us. We then become adults who are just doing things because they are expected of us, without questioning them or saying no to them. Consequently, we end up marrying the wrong people, having children with the wrong people, then blaming them, blaming the parents, blaming whoever. That fascinated me. What fascinated me was also how we expect children to take orders from us without explaining to them why because that's how we were raised. You never asked why, you just did it. But now when they ask us why, it frustrates us."
"Raise children with structure, not authority," she says. "By example, not doctrines. You can't ask them to make their beds when you never make your own bed." But some of these things start very early, she says. "Consider the fact that a toddler's favourite word is no. Go to bed. No. Eat your food. No. Don't touch that. No. They then start pushing boundaries and because they can't communicate they tend to throw tantrums to express their frustrations. Now, depending on how your no's were accepted or not accepted, and how many no's you were told as a toddler, you learn and the crucial age of zero to seven a child records everything that's happening in the world around them and that becomes the template for life."
So we grow up to be either people who know how to say no or not. Most of us find it hard to say no, which means we will not say no to friends or to colleagues or in relationships even when we need to say no. "It's what's called self abandonment, when you say yes to something when deep down inside you know you should have said no and then you are left with guilt and shame for saying yes and you ruminate on that and wish you had said no. But when we say no to people you also feel guilty and so you take the emotions of the other person as your own responsibility to fix how that person feels when you tell them no. But that's not your business. If I say no to you, how you feel about my no is not my business. That's your business. That's for you to sit with the feelings that you feel about being rejected."
"Hmm.."
"Yes and often people will guilt-trip you when you tell them no. They might say how bad they feel or just pout instead of saying, 'Okay Joan said no, I respect her no, I feel bad about her saying no, but I'm gonna go find help somewhere else since she cannot do it.' Because what happens is, those of us who end up saying yes when we mean no, become people pleasers. And you're forever doing things to please other people yet your needs are never met. And that self abandonment ends up with you not having time for yourself. You end up doing shit that you don't even like doing."
"What was the last No you got that stung?"
"So, I did not grow up in a lovey dovey huggy huggy environment, my daughter is very huggy huggy, she's very affectionate, and she likes cuddling and stuff like that. That has always been a point of contention for us because as a child she needed that and I was unable to give it because I did not know how to give it. I didn't know how to give it because I didn't get it. And a few months ago she was going through a rough patch and she was crying, and she was emotional, and I went and I was like do you want a hug? And she was like yes, but not from you."
Whoa.
"Yeah. That was bad, like being knifed. And so I was like okay, no problem. But later on when things had calmed down I was like why did you refuse my hug? She said "I know you were coming from a good place, but because you've never been the person who gives me hugs when I'm struggling, it just doesn't feel right coming from you."
Talking of children and childhood I'm curious about her father. What happened to him? Did they ever make up?
The second last time she saw him, she tells me, was in December 1994. She had moved into her parents home temporarily, when her daughter was a month old because she was colicky and she needed help. It had rained. "He [dad] came back home drunk and tried to wipe his muddy shoes on the carpet. I was furious. We went at it, I told him you can drink all you want but you won't disrespect my mom again. He left for the bar and never came back." The last time she saw him was in 1997 just before she moved to the States. She went back to her place and found him playing with her daughter. "He was like, can you go talk to your mom, ask her to forgive me. I said no, you go ask for forgiveness, she's your wife."
In 1998 he died in the US Embassy bomb blast.
"I felt sad," she says. "I always knew he was going to die young, either from alcohol poisoning or he was going to be hit by a car while drunk. So it was bittersweet because he was also one of the smartest human beings I know. He used to sit and read encyclopaedias for fun. Very sharp. So when I heard he died I was sad that he had to die that way, it was a painful death for sure. And also glad that it's not alcohol that killed him. I think he would have been very good friends with his grandchildren."
Now she is in the business of helping people find themselves, more like a life coach even though that's a battered phrase nowadays. "It's more like reconnecting with the most authentic version of yourself which is that age zero to seven. Because that's where all the emotions sit, where authenticity sits, where creativity and playfulness sit, that's where all the things that are wonderful about a human being sit. It is also about not bringing the past into the present nor the future into the present because they cloud your ability to be present in the moment," she adds. "Often we can have a much better life saying no to things that don't work for us. But saying no is also double-edged, because to say no you have to also accept people's no and most times people who are not able to say no will most likely struggle to accept others no."
**
A call to the procrastinators. The registration of the Writing Masterclass is soon closing. Click HERE to register.